Series EU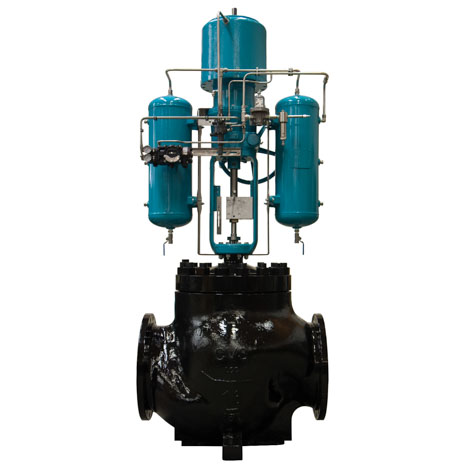 Quick Specs
12, 16, 20 Inch

Standard Materials: Design EUT-2 – Class IV, standard with metal seating; Class V with soft metal seating Design EUD – Class III, standard. (Optional Class IV and V)

ASME Class 150 through 600, and Buttweld

Linear or Equal Percent
Actuator Applications
The CVS Series EU Control Valve is a globe style, single port valve which uses a balanced plug, cage guided design with push down to close action.
The CVS Series EU valve provides excellent flow control for on/off service or throttling applications, in steam, liquid or gas service.
Both designs utilize metal to metal seating, Design EUD has the seat ring bolted into the valve body using cap screws, Design EUT-2 seat ring is threaded into the cage.
Design EUD: Intended for use in general control applications over a wide variety of high temperature and pressure drops. This design uses two graphite piston rings in between the plug and cage.
Design EUT-2: The CVS EUT-2 design utilizes composition seating for applications which require tight shutoff requirements and higher temperature limits.
Standard Flow Direction is down for Anti Cavitation Cages, and up for Noise Abatement Cages.
Body and Bonnet Material is – LCC, WCC, WC9 steel, or CF8M (316 Stainless Steel). Additional material selection may be available upon request.
Sour Service capability.
Optional NACE MRO175/ISO 15156-2009
CRN# OC118416.2